Today was my last day in Kuala Lumpur and also my last day in Malaysia.
So what did I do?
I ate chicken and rice, saw some monkeys, went in a cave and marveled at a giant golden Buddha.
Just another day…
Yes, today I went to explore the Batu Caves just north of the city.
You can actually get there pretty easily via metro/rail combination. I took the metro two stops to KL Sentral from the station by my hostel and from there the rail took about a half hour to get to the Batu Caves station.
As I was transferring at KL Sentral I decided to look around the building to see if I could find a food court as it was almost noon and I hadn't had anything to eat yet.
I found one tucked away in a corner up an escalator.
It was perfect. In the middle of a busy transit terminal was this hidden food court.
It seemed only locals knew about it or the foreigners were too timid to go up there as I was the only foreigner there.
I actually stopped there twice – once before going out to Batu caves and then again when I returned a few hours later.
Both times I had chicken and rice – the first was bbq chicken with white rice and the second was honey garlic chicken with fried rice.
I got to the Batu caves at 12:30 and, unlike yesterday when I had to take a cab to get to the attraction, the caves were right next to the train station.
The number of visitors wasn't as crazy as yesterday I'm guessing mainly because it was a Monday.
The first thing you see as you approach the area are the monkeys.
Dozens of them just walking around like they own the place.
I made sure my bag was zipped up and my camera strap was firmly wrapped around my wrist. No goodies for you guys!
I could have sat there all day taking photos of just the monkeys but there was no shade in that area and, besides, there were other things to see here.
I did manage to get the much prized selfie with a monkey. Someone actually asked me if I wanted them to take a picture for me but I explained it was all about the selfie.  By the way, getting a selfie with a monkey – not that easy.
This is the best I could come up with:
The other thing you see when you approach from the train is the giant golden statue of Buddha. Now that statement is not hyperbole. It's huge!
42.7 meters huge. (That's 140 feet!)
Right next to the giant golden statue are the ominous steps taking you into the cave.
272 of them.
Conveniently numbered so you know how much further you have to climb…
I actually climbed them with relative ease. I was actually surprised I had already arrived at the top when I did. I guess the motivation to get into a nice dark cave from the hot humid sun was enough to get my ass in gear.
The cave is actually gigantic and not what I would envision a cave to be. I guess it was more like a cavern.
There were temples set up alongside parts of the cave and of course the obligatory tacky souvenir shops.
I ignored the tackiness and focused on the beauty. I like coming to places like these if only because I like the colors and architecture of the different things you encounter.
After an hour of exploring I was ready to turn back into town.
I arrived back at KL Sentral at 2pm and after eating I was faced with a decision – go back to the hostel and call it a day or head out to explore more around town.
I chose to call it a day.
It was hot. I was sticking to my shirt and I had seen what I wanted to see.
I was also ready to end this part of my adventure.
I'm ready to go to Japan and hang with my brother for a week and a half before going home.
My flight leaves tomorrow morning at 8am which means I have to leave my hostel at the ungodly hour of 4:30am.
But I'm ready!
And excited!
Asia Trip 2014, Trip Journal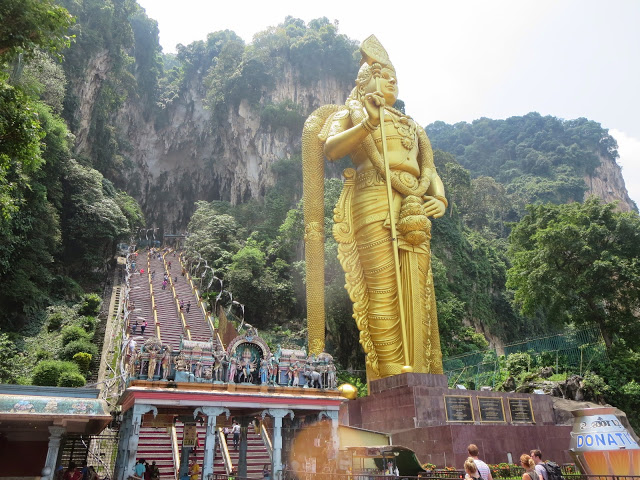 A giant golden Buddha and monkeys everywhere!