After getting in last night after a long 24 hour train ride, today was are first day to really explore Pyongyang.
Now, when I say explore I don't mean "hey, I'm just gonna take a look around". Nope, explore means all 10 of us board a bus, go somewhere, explore, re-board the bus, go somewhere else and so and and so on.
It's weird having someone make all the decisions for me, telling me where to go and when to leave.
So, on that note, we had a breakfast at our hotel at 7am and we were on the bus an hour later ready to see what this mysterious city had in store.
Paying our respects
Our first stop was a trip to pay respects to the leaders Kim Il Sung and Kim Jong Il. We joined hundreds of locals in placing flowers at the feet of two towering statues standing 32m in height.
For some locals this is a morning ritual and alot of workers come in groups at the beginning of their shift to pay respects before going on to work for the day.
As would be a running theme throughout our stay here, there were certain rules we were told ahead of time. When in the presence of the leaders we were not allowed to smoke, chew gum or wear a hat. We also weren't allowed to do any untoward hand gestures and when we took a photo of the leader is had to be the whole image not just part of him.
Not really anything crazy but you definitely got the impression that their leaders (dead and alive) are very revered and respected.
Foreign language bookshop
After paying our respects we drove over to the Foreign Language Bookshop which, as the name says, is a store selling propaganda books about the leaders and North Korea in a multitude of foreign languages.
I bought four books: two volumes of Kim Jong Il's aphorisms (or thoughts) and two volumes of anecdotes about him.
The four books along with four pins I also bought came out to about $30.
Interestingly, everything for foreigners is prices in euros, the preferred foreign currency of North Korea. They also accept yuan (Chinese currency) and for some reason US dollars.
A couple surprises with the bookshop too were that they gave us a free calendar and a handmade cloth bag with every purchase.
Food festival
At 10am we were on to our next stop for the day – a food festival.
This festival only happens 3 or 4 times a year on special occasions like the impending birthday of former leader Kim Jong Il.
It was also the first time this festival was open to foreigners so we going somewhere no one else from the outside world had gone.
Visions of sampling a bunch of different foods were quickly dashed as we found out it was actually a food competition for different chefs from around the country.
There were chefs lined up side by side in different rooms preparing sweets, rabbit and root vegetable dishes.
The real excitement happened as we went up another level to the service room where servers were being evaluated from their ability.
There were dozens of tables of 8 people sat with sampling dishes in front of each person.
We quickly became the stars of the show as foreigners really aren't a sight locals see every day. A seat was given up at one table where we were invited to sit down and sample some food.
A couple of us did so including myself and I gotta say it was the most nervous I've been in awhile as I put my lame chopstick skills on display for dozens of peering eyes to judge.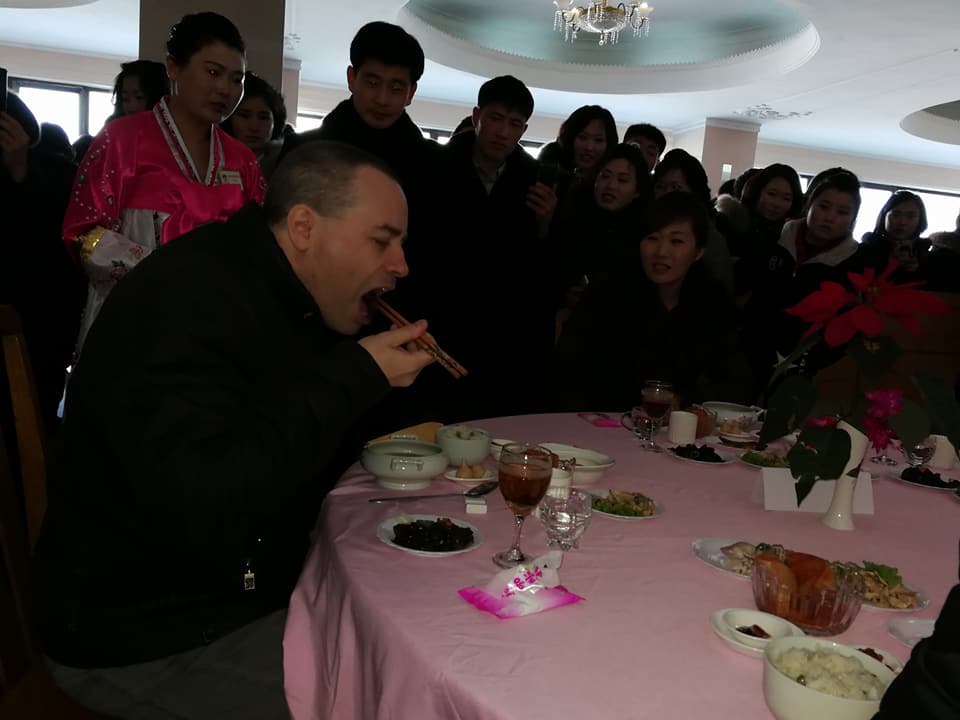 I somehow managed to not screw it up entirely and sampled a few dishes and did a toast with the locals sat at the table before giving up my seat.
I felt like a celebrity but not as much as when I went up to the next floor.
On the top floor they were judging managers/chefs on their dish plating styling.
As you enter the room there are hundreds of plates on display on this massive table with each one elegantly designed.
I seriously must have taken 30 photos of just plates of food.
It wasn't long before a TV crew noticed my interest in the plates and started following me around filming we taking photos of the dishes while playing up expressions of wonder and delight.
For them, this is the ultimate news story – foreigner loves our food.
Anyway, after my 15 minutes of fame we were on to actually go eat some food.
Lunch
Ah, good ol Korean BBQ. Amazingly, coming from such a culture diverse city as Vancouver, I've never actually tried any Korean dishes so everything I was eating here was a new experience for me.
Our waitress set up the BBQ on our table and soon there was duck and squid grilling in front of us.
I have to say though that Korean BBQ is the ultimate tease as the food in right in front of you but you can't actually eat it for a good 10 minutes as it cooks.
We were the only people in the restaurant as they are only open at dinner but opened specially for us at lunch.
Anyway, after lunch is was time to get educated.
Library tour
Our next stop was the library which also acts as an education center for technology and foreign languages.
We were met by Osami, a guide who works at the library, and we followed her around for over an hour listening to different facts about the library.
Now, I know what you're thinking – "a library tour, wow, how exciting!"
Well, yes and no.
We also were able to enter a lecture hall as North Korean students were studying Chinese and we also toured their AV room which was proudly showing up their multiple old tube TVs and ghetto blasters.
Our final stop was the gift shop conveniently located at the end of the tour.
Normally I'm not a big souvenir shopper. I prefer to gather unique souvenirs like pamphlets or ticket stubs.
The trip is different though as North Korea is mysterious to the rest of the world and it seemed like I was snapping at every chance to pick up a souvenir that could only be had from visiting North Korea.
I picked up a silkscreen cloth painting and a North Korean movie DVD for 120yuan ($24).
After spending half a day in this city now I was actually pleasantly surprised at how much interaction we had with the locals as my image of visiting the country was always a closed off tour where we didn't see "real" North Koreans in their daily lives.
Nothing would emphasize that point more than our next stop…
Riding the subway
We went to a nearby subway station to ride the rails for a few stops with the locals.
The stations were immaculately designed and clean (as was all of the country). There were tiled images of the leaders and of I assume propaganda slogans and images.
There were also stands in the middle of each station displaying that days newspapers where locals bunched together so see what was going on.
The subway itself was built in 1968 and is 2 lines with only 17 stations.
There are no advertisements anywhere and, in fact, outside of a couple of billboards for car sales there are no ads whatsoever anywhere in North Korea.
The stations we went to translated into English mean Revival, Glory, Torch, and Victory.
Very fitting for a country that prides itself in glory and victory.
The war museum
After a short time on the subway we were off to the war museum.
This was the one time on the whole tour where I felt I was being hit over the head by the North Korea propaganda machine.
Our tour of the museum was led by a beautiful North Korean soldier who spoke perfect English and she took great pride in describing all the countries victories and its' capture of foreign vessels and aircraft.
One of their most cherished captures is the USS Pueblo, a US spy ship they captured in 1968 along with 83 crew members who were held captive for almost a year.
When we entered the inside of the museum you can immediately tell they spent alot of money on presenting their view of history to both their citizens and foreigners.
The museum was so vast that our guide told us it would take 3 days to visit the entirety of it. We visited a few rooms including the "Atrocities by the US" and the "Defeat of the US" rooms.
Yeah, there is a big disdain for the US here as our guide would constantly talk about the "Imperialist Americans".
We also sat down and watched a 13 minute propaganda video about the start of the Korean war where the US who installed a puppet government in South Korea then started the war between the two nations.
Was it true? Was it just propaganda?
Honestly I don't know but what's important to note is that everyone who lives in North Korea has the same views as they are taught and constantly reinforced how great their country is and how evil the imperialist Americans are.
Thank God I'm Canadian.
North Korean department store
Because I had taken so many photos and videos already throughout our action packed day, I managed to drain my camera battery but you'll just have to believe me that we did, in fact, go to a North Korean department store.
It's actually the only place where foreigners can get their hands on the local currency.
On the first floor of the department store there is a little booth where we were all able to exchange up to 5 euros worth for 63,000 Won.
I exchanged a couple of times as although I didn't really have the intention of buying anything, I did want to take some souvenir cash home with me.
Think about how rare it is to see North Korean money outside of the country and it truly becomes a unique souvenir.
I did end up buying a couple of things but only about $3 worth and I took the rest of the cash home with me.
Dinner
Dinner time!
Our dinner tonight was Bibimbap but as with all our Korean meals we didn't actually get to our meal before we were presented with 8 different appetizer plates to share.
Like I said, my camera died, so here's some photos of the plates from the Food Festival instead…
By 9pm we were finally back at our hotel after a long 13 hour day exploring so much of the city.
Tomorrow we're heading to the DMZ to do a rare tour from the other side of the demilitarized zone.
It should be unique and definately worth seeing – can't wait!
DPRK Trip 2018, Trip Journal, Pyongyang, North Korea