Today was almost a carbon copy of yesterday in that I did alot of walking and ended the night in the shooters bar.
Today Rachel, Caroline and I got together again. We started the day satisfying a craving the girls had – donuts! I picked up a half dozen and met them outside the farmers market off of Las Ramblas the main tourist street in downtown Barcelona.
After gouging the donuts and nibbling on a couple other things from the market we walked around the Park Guell area in the northern part of town. The park, although overrun by tourists, was really beautiful and it was nice to relax a little and take all our model poses amoungst the different greenery, rocks and buildings.
After walking around the park for an hour or so we headed down towards the Sagrata Familia a huge church in the middle of town. It's size is quite daunting and is in a constant state of construction. The lineup to get in stretched around the corner so we settled for walking around it and snapping a ton of pictures.
We finally stopped for some lunch and I had a sangria (of course) to go with a nice little pizza. The sangria along with the ridiculously long walk to the Sagrata Familia put me down for the rest of the afternoon as I started to get a really good buzz going.
I decided to head back to the hostel as the girls continued exploring. When I got back to the hostel I finally gave in and gave my clothes to the front desk for washing. My attempt at washing my clothes in the sink earlier in the week had proved to be futile as they still smelled a little and were still a little wet. I actually was left with no underwear, no shirt (I just wore a hoodie) and socks turned inside out for the rest of the night. Ah, hostel living!
After the great time I had at the shooter bar last night I simply had to share that experience (minus the Lewinsky part) with the girls tonight.
8 shots and 20 euros later I was feeling great and it was time to call it a night. Just another day in my new life. Fun times!
Euro Trip 2013, Barcelona, Spain, Trip Journal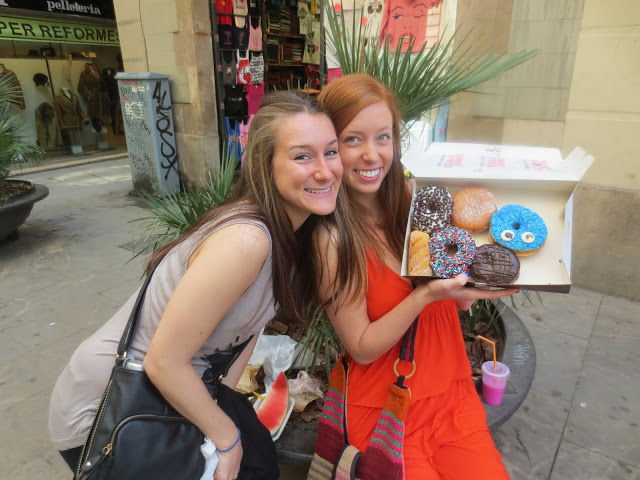 More walking and more shooters