After a long day yesterday I got back to the hostel last night around 11pm and not even 5 minutes later I was in bed.
Yup, I was a tired puppy.
Naturally I was woken up again by a snorer just 2 hours later.
Sonofabitch!
I took my flashlight and shone it right in his eyes and nothing.
I shook his bed and nothing.
I pulled at his pillow and nothing.
C'mon!
I finally just grabbed my laptop and headed downstairs to catch up on some stuff online.
The night manager was hanging around so I told him my perils and asked him if I could sleep on the couch down there.
He shook his head no and I asked if there was anywhere I could sleep.
He again shook his head and said sorry.
Oh well, guess it's just another sleepless night…
I settled into my computer and about 10 minutes later the night manager came over to me with a keycard.
He was going to let me go into an empty room with 2 beds just for tonight
Sweet!
The snoring sucked and I was pretty damn pissed off but the fact that it got me basically a private room for the night seemed like a good trade off.
When I woke up this morning I crossed my fingers and went to the front desk hoping that I could just stay in this oasis of a private room.
I was prepared for the worst but instead the guy just said no problem and now I have a room all to myself for my remaining 3 nights here in Paris.
Super sweet!
I'm trying to balance out heavy activity days with light days so I don't go crazy trying to do everything every day.
This morning I just sat in the hostel putting work into planning my upcoming five week trip to the UK.
In the afternoon I decided to tackle another Paris activity on my list – the Catacombs.
I took the metro over to them around 2pm and saw a line snaked around the corner.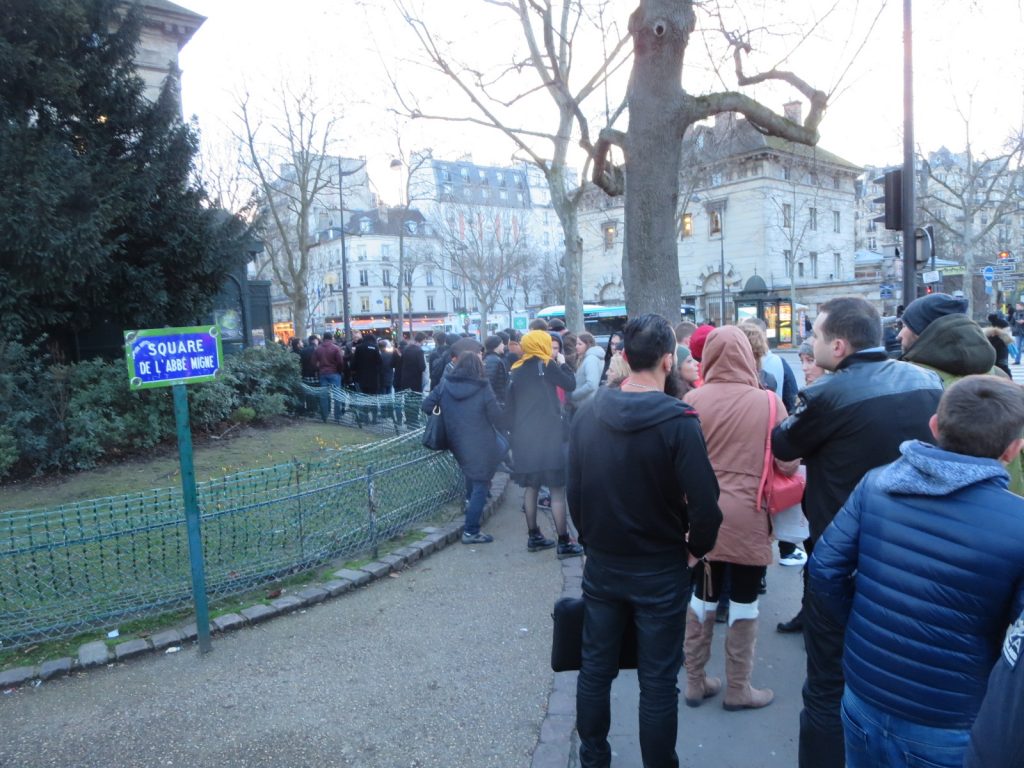 Ugh.
I walked up to the front of the line and asked the people there how long they had been waiting.
2 hours.
Um, no, not gonna happen.
Sorry, but I ain't waiting anywhere for 2 hours.
Not only that, it started to pour rain again.
Ick.
So, I decided I would come back later on in the day when the lines are usually smaller and hopefully when the rain was once again gone.
I grabbed a crepe and headed back to the hostel in the meantime.
Mmmmm… crepes!
At 6pm I headed back out to the Catacombs and to my delight the line was really short.
There were only 15 people in front of me and the wait was about 20 minutes.
That I can deal with.
Now I gotta admit, I didn't actually know exactly what the Catacombs were. I mean, I knew they were underground tunnels but that's all I thought they were.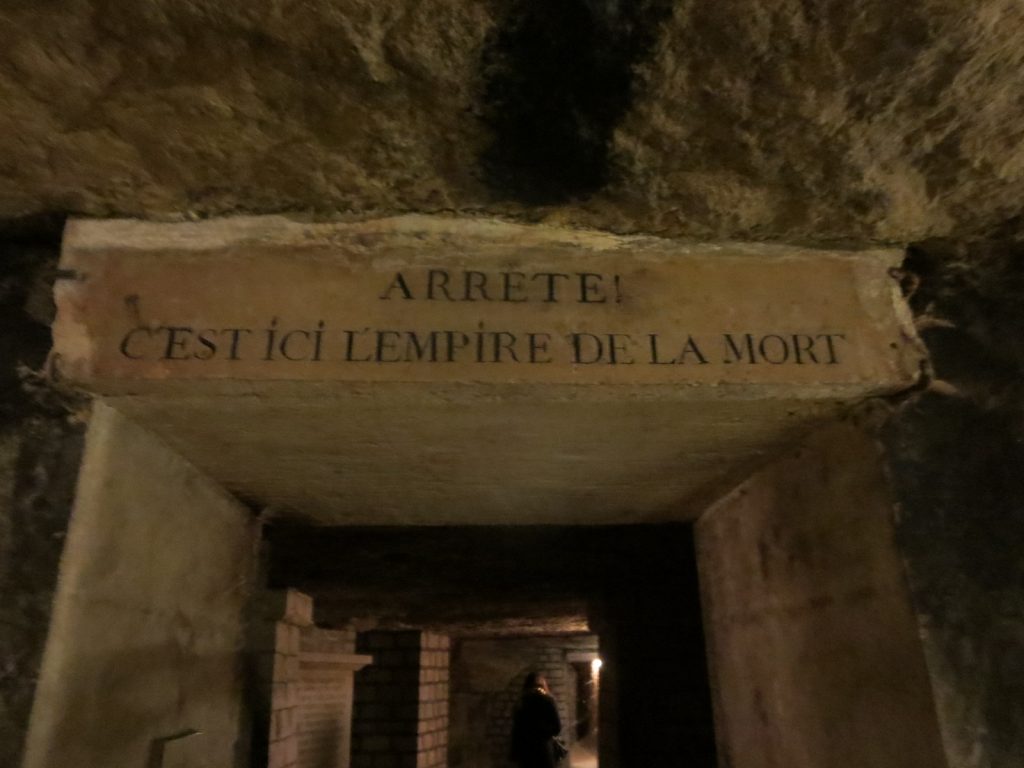 Imagine my surprise when after going through the tunnels for awhile I turned a corner and saw a sign that translated to "Stop! Here is the home of the dead"
And then there were corridor after corridor of meticulously placed bones and skulls making patterns and linear structures.
The walk through the Catacombs took about 45 minutes and ended with a long walk up a narrow stairway back to the street above.
The exit was actually on a quiet side street a few blocks away from where we started.
In all, it was a pretty humbling experience just being amoungst all these people who had long ago died and I'm glad I got to witness this great place here in Paris.
Paris, France, Euro Trip 2017, Trip Journal