After several nights in a row with very little sleep I finally crashed last night for an 11 hour sleep waking up at 8:30 this morning.
Well, actually I temporarily woke up at 4am with the hissing of the two hostel cats fighting outside our dorm room door – easily the strangest way I've been woken up at a hostel.
Today made up for the last couple of days as I managed to cram a 3 hour walking tour and a Lucha Libre wrestling match all into one day.
If you're ever travelling to a new city one of the best things you can do is look on the internet to see if any company is offering a free walking tour.
The tour company I chose was Mexico a pie. I had tried to go on the 10:30 free tour yesterday but I was the only one who showed up so today was the day.
I actually brought two of the guys I met yesterday, Felix and Gautier, with me to the tour which brought our total to 7 which is still kinda low for a walking tour but considering they also offer a Spanish version of the tour it splinters the number of people joining up.
Our tour guide Guia showed us around the city for 3 hours focusing mostly on the area around the Metropolitan Cathedral and the main plaza Zócalo.
Every walking tour comes with some unique stories about the history of the city and country and this one was no different.
We took a tour in the basement of a souvenir shop where the history of the Aztecs was drawn on murals in a couple of different rooms.
Came to find out that for the Aztecs, the difference between going to heaven and hell wasn't based on whether you were good or bad but rather on how you died.
If you died valiently like in a battle then you went to heaven. If you drowned in the river or in a flood you were sent to a special place that would turn you to a butterfly after 4 months.
Now if you just died of natural causes cause you got old, well, that meant you had to prove your worth to enter heaven. After you're buried you would have to pass 9 different challenges like walking a mountain with blades and a valley of jaguars.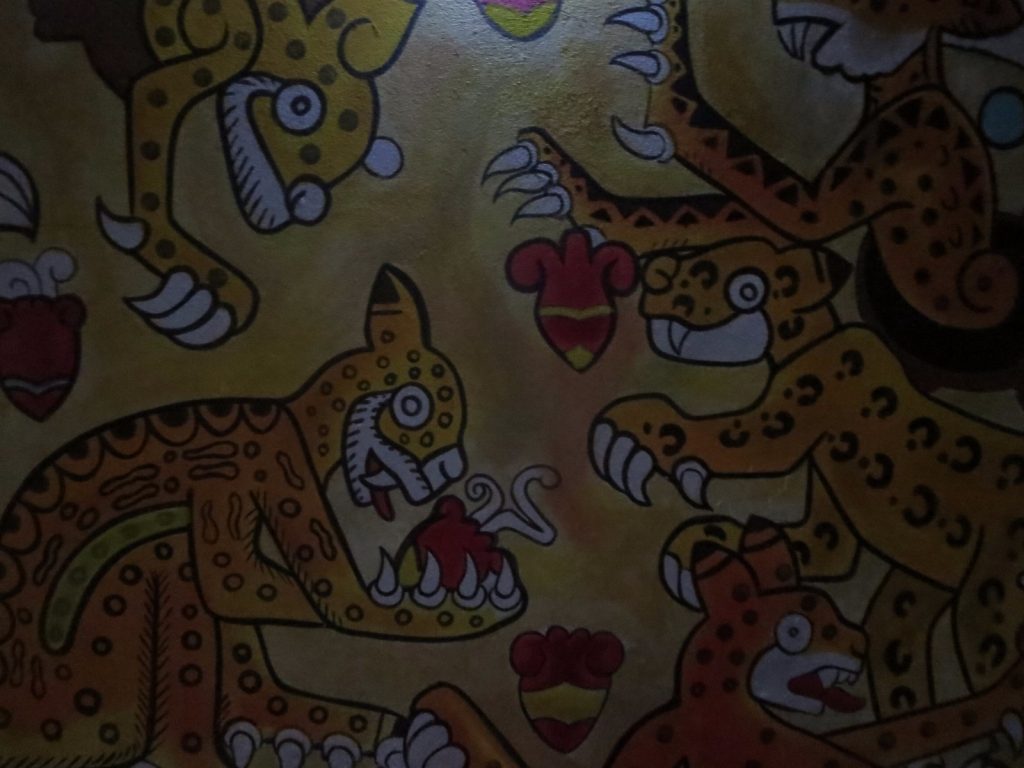 Basically it was like a video game but if you weren't successful passing through all the stages you had to go back and be reborn, live life, die, and try again.
I actually asked Guia why people who were getting old and were on the verge of death didn't just go in the water and drown so they could skip the challenges and just become a butterfly. Apparently suicide disqualifies you so there's that.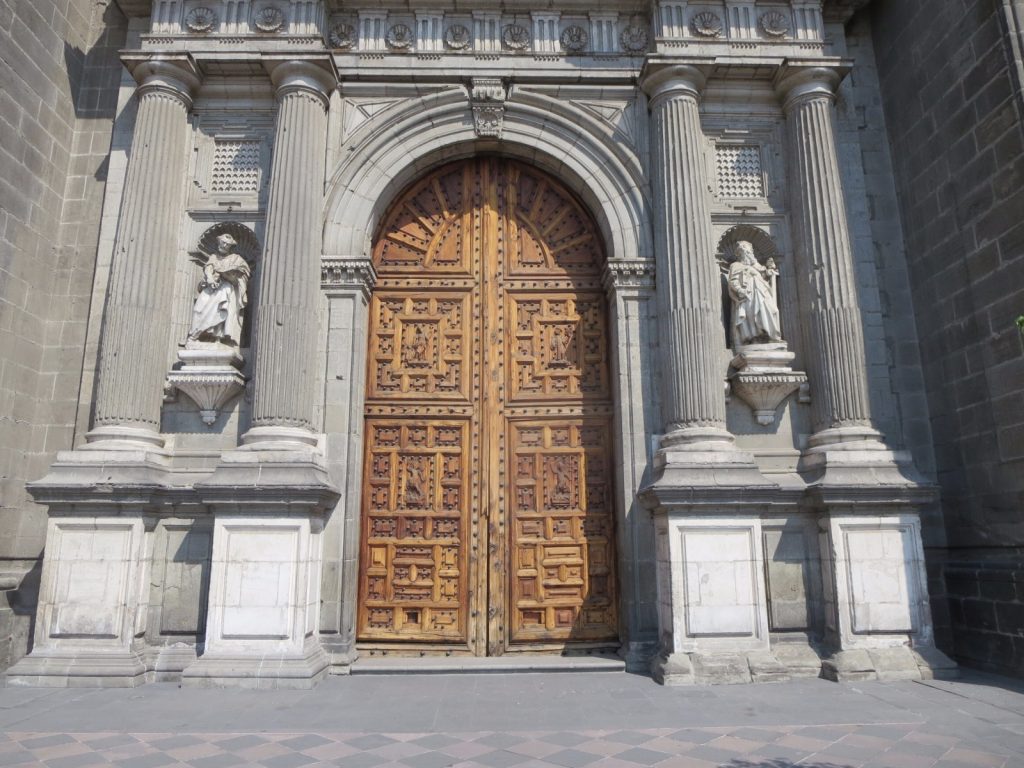 Next we went over to the Cathedral where we saw the great Door of Forgiveness. Now, back in the day if you weren't Christian you were jailed and then brought to the Door of Forgiveness to stand before the altar and, well, ask for forgiveness.
Didn't matter either way because you were executed in the main square next door anyway but I guess if you're big on the heaven/hell thing then forgiveness is a big thing before you die.
The actual cathedral is built on old Aztec ruins and because of that and the fact that most of Mexico City was a lake a couple of hundred of years ago, the cathedral is sinking.
They actually have a pendulum in the middle of the cathedral showing which way the cathedral is leaning and on a daily basis workers adjust hydraulic lifts underneath corresponding columns to lift up whatever parts of the building they need to.
Inside the cathedral are several altars including one with a black Christ known as Lord of Poison.
Why is he black? Why is he the Lord of Poison? Glad you asked!
Legend has it a regent archbishop prayed daily and at the end of his prayer he would kiss the feet of the statue. His enemies took note of his routine and applied poison to the statue's feet in hopes of a deadly kiss on his next prayer.
Their plan was foiled though as the statue shrank back (hence the bent knees to the side) as the archbishop went to kiss its' feet. The statue then absorbed the poison turning it black.
Is the story true? Is it just a fable? Doesn't really matter cause I love hearing these stories on walking tours!
Outside the cathedral is an amazing statue of Jesus and Mexico's favorite pope John Paul II made out of 7 million keys donated by citizens of the city.
We continued walking through the city stopping at different buildings including the oldest candy shop in Mexico and finished our tour 3 hours later.
Although the tours are free they rely on tips to keep it going and the going rate is usually in the $5 or 5 euro range. Here in mexico I tipped 100 pesos (about $6).
After the tour, Felix and I went to lunch and to back to the candy store cause we had a legit reason to get some candy.
Later in the afternoon I went over to the ADO bus ticket office to pick up a ticket for my 7 hour bus on Sunday to Oaxaca. I tried to get the ticket online the night before but, like I've experienced in other countries, my credit card didn't work on their site. No worries though cause the price was about $15 cheaper than what I was going to pay online.
Back at the hostel and a nice, long, hot shower I sat down in the common area to relax and examine how sunburnt I actually was.
Yup, I'm sunburnt! Crazy to think that 4 days ago in Vancouver I was wearing my winter jacket.
At 8pm ten of us headed out to see the Luche Libre show.
For those that don't know, Luche Libre wrestling is a highly regarded sport/entertainment down here in Mexico. The wrestlers are usually smaller and wear masks while doing amazing acrobatic moves.
Anyway, this show was at the top of my list of things I wanted to do here in Mexico City.
They run shows a couple times a week but the big draw is the Friday night show which is broadcast on TV.
The ten of us walked over to the Arena Mexico about 15 minutes away, made our way past all the stalls selling merchandise and all the scalpers telling us the show was sold out to the ticket window.
Of course the show wasn't sold out and we actually got really good seats at ringside, 14 rows away from the action.
Ticket price was 190 pesos which is about $12 so, yeah, it was a real good deal for 2 hours of Mexican entertainment.
We had to go through security to enter the stadium and, sadly, I had to hand in my camera as they weren't allowed. The guard gave me a slip to use to pick it up later. Now, the whole camera rule is kinda lame considering they allowed phones inside and every phone nowadays has a camera on it, but, anyway, whatever – just roll with the punches.
It's kind of ironic that the last time I was at a cultural event at a stadium was the bullfight I went to in Madrid where I was also cameraless as it had been damaged during my Camel Trek in Morocco.
That time the photos came out grainy as I was trying to zoom in with my phone camera. This time around I didn't even have my phone so I'm relying on photos from my hostel friends to fill the void.
Anyway, onto the event…
Sitting there before the event started, I couldn't help but smile from ear to ear. I mean, I was just sitting there amoungst the locals watching the vendors go up and down the aisle and little kids fully dressed in masks and capes.
This was their real life. This was their passion.
The two hour show featured several matches, mostly 3 on 3 matches which always deteriorated to 3 on 1 matches when the bad guys would gang up on a good guy.
As for the vendors going up and down the aisles – even before our butts were in the seats a vendor was on us asking if we wanted a beer. I held out for food and I watched as vendor after vendor walked down the aisle.
Eventually I chose the guy carrying what looked like churros. He stopped and took a plate out with the churro like thing (I was half a row away so it looked like churros) and proceeded to pour lemon juice on it and then offered hot sauce as well.
It was at this point I realized I was going to get a mystery snack as churros are a doughy snack with cinnamon and sugar.
The plate of food reached me and I paid my 40 pesos ($2.50) and dug in. It was actually pretty damn good! I looked on the internet later and found that I had eaten another traditional Mexican snack called Duros made with puffed wheat.
Naturally a few of us also bought our own Lucha Libre masks. I bought one for 50 pesos ($3) but there were also other, better quality ones for 100 and 150 pesos.
In the end, we all had a great time but it was coming up to 11pm by the time the show ended and alot of us, myself included, were wiped out from a long day and just wanted to hit the bed.
Tomorrow is going to be an early start at we leave for the ancient pyramid ruins at Teotihuacán an hour outside of Mexico City.
Until then…
Mexico City, Mexico, Euro Trip 2017, Trip Journal
Walking tour and Lucha Libre wrestling