Today was Sunday and I only had a couple things on my list to do.
Explore around Camden Market. Go on a walking tour of the Old City. Eat a Sunday roast dinner.
Easy peasy.
Around 10am I headed on the tube over to the Camden Market.
Unlike when I was in Paris last week, I don't have to fish out change every time I go on the metro here as I purchased a 7 day travel card for 38 pounds ($62).
Pretty expensive for transit for a week but at least all I have to do is walk into the station, tap the card and be on my way.
And I can hop on and hop off as much as I want.
The Camden Market is what you would expect from a street market. Eateries, cheap souvenirs and some artsy stuff.
This being Sunday there were alot of people out on the streets so I just kind of walked with them exploring the different stores and stalls.
I also popped into a tavern to get another British staple – the English breakfast.
The plate was piled up with fried egg, baked beans, sausage, bacon, blood pudding, mushrooms, baked tomato and toast.
By noon I headed back to my neck of the woods where my hostel was to deal with a couple errands.
One, I had to buy a belt.
The pair of jeans I have fit perfectly when I embarked on my trip a month ago but now they were in desperate need of a belt as I've lost a few pounds with all the walking around I've been doing.
Ironically, on my last trip I also had to go buy a belt and I also had to buy a scarf and toque so I'm thinking next trip it'd probably be smart to maybe pack those too.
I mean, there's only so many belts a man needs. Not to mention scarves and toques.
It was also time to get a haircut. My spiky hair was becoming a little too spiky so I just got it all shaved off.
Yup, I'm a skinhead again.
I also picked up a sim card for my phone to use over the next month while I'm here in the UK. It costs 20 pounds ($33) but it includes local calling, unlimited texts and 1GB of data.
Around 3pm I headed back out into the city.
This time I was headed back to the same meeting spot as my walking tour yesterday to do a different tour to a different part of the city.
I reached the meeting point and there were alot less people there this time.
I assumed it was because this wasn't a free tour but a paid (13 pounds, $17) tour.
Nope, it was because it was a Spanish tour. Apparently the English tour doesn't run on Sundays.
Okay, then.
Whatever.
I was kind of on the fence as to whether I wanted to go on this paid tour so that just kind of sealed it for me.
I decided to just go to the places on my own. I had pinpointed them on my offline map app so I just started walking.
Then the rain came.
A duck for cover and then when the rain stopped I was out again.
I visited the Monument and St Paul's Cathedral and then it started to rain again.
A duck for cover again.
On to London Tower and the Tower Bridge.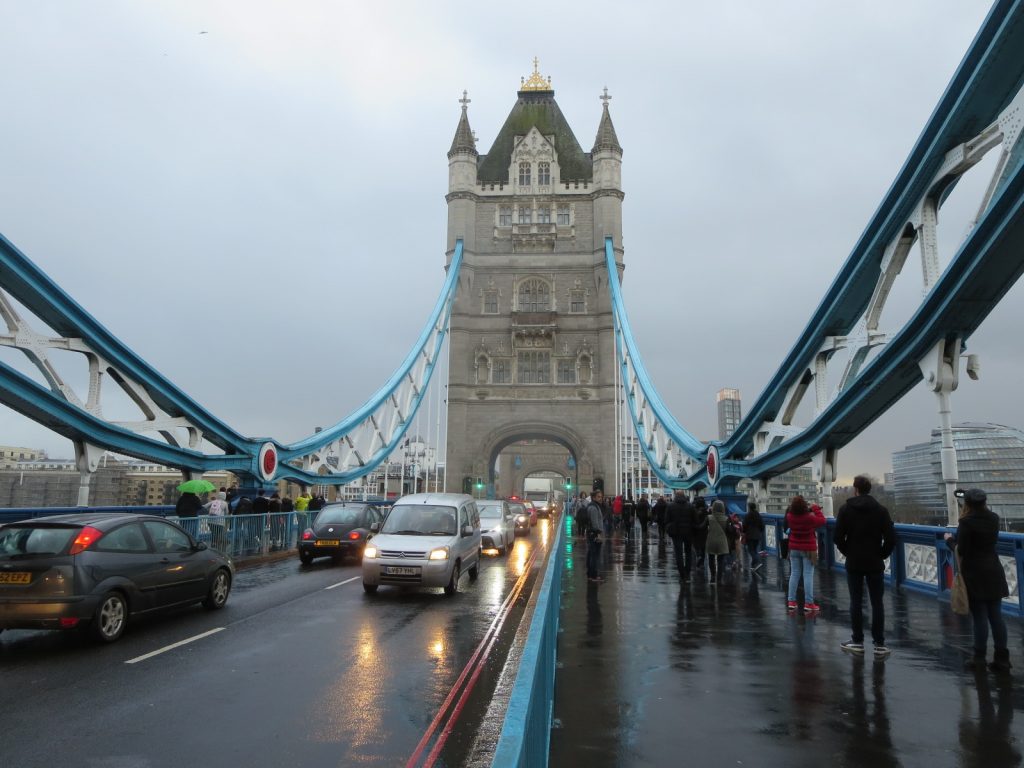 And then it started to really rain. Enough so that my umbrella didn't make it.
Okay, I get it!
Time to go back to the hostel!
When the rain let up I headed down the street to a tavern one of the guys working at the hostel recommended for Sunday Roast Dinner.
I would have never found this place on my own as it was down an alleyway and tucked away in a corner.
The place was packed as I've discovered all pubs and taverns are here in London.
I sat down and ordered me a lamb roast dinner.
Soon after this came out to the table…
Welcome to London!
London, England, United Kingdom, UK, Euro Trip 2017, Trip Journal
A market, a tower, a bridge and a roast