Yes, you read that right.
Today I did a day trip from London to Oslo, Norway.
I left my bags at the hostel here in London, boarded a plane, spent the afternoon in Oslo, and boarded a plane back to London.
This day trip was supposed to happen a year and a half ago at the beginning of my USSR Trip 2015.
My overseas flight from Vancouver was supposed to take me to Oslo where I was going to spend the afternoon before going on to take an evening flight onto my starting city of Helsinki, Finland.
I was supposed to land around noon which was going to give me five hours in the city before I had to catch the train back to the airport.
I had planned my route through the city and which attractions I wanted to see. I had even looked up street views of the city to get an idea of the layout of the land.
Yup, I had this sucker planned out with everything written down on a little notepad.
I left Vancouver on my way to Dallas to change on to my Oslo flight. While I was in the air, however, the connecting flight got changed to a later time and my planned afternoon day trip to Oslo was ruined.
I went on with the trip and went on with my life but that little pad of paper with the day trip itinerary remained.
And now, today, I was able to finally do that day trip.
So, a day trip to another country…
What the hell?
Well, with the cheap airfares on Ryanair, it's actually cheap enough to consider.
The two flights were each £17 ($30) and because I left my big backpack at the hostel I didn't have to fork over another $25 each way to checkin my bag.
So, for £34 ($60) plus another £26 ($42) for the train to and from the airport, I was able to get to Oslo for just $100 return.
Seems reasonable so why the hell not?
So, anyway, on to the trip…
As you can imagine, doing a day trip involving two flights means an early start and a late finish.
This morning I was up at 5:00 and out the door by 5:30.
As with most cheap Ryanair flights, their airport hub is an hour outside of the city in Stansted so it took me awhile just to get to the airport.
A 20 minute tube ride to Tottenham Hale station brought me to the Stansted Express train (£13, $21) and at just after 7:00 I was finally at the airport.
By the time my flight departed at 9:20 my day was already 4 hours old and I hadn't even left the country yet.
Yes, it was a long day…
I will say that I did get the cheapest bottle of water in an airport ever (95pence, $1.50). So, big props to Boots as usually the water is in the $3-$5 range.
I'm always amazed at how people all race for the gate to line up to board a flight when all the seats are preassigned.
They do know that they won't get to their destination quicker if they're first on the plane, right?
Anyway, I always just sit there close to the gate watching the line and when it's at the end of the line I finally get up and checkin.
I always did this just so I didn't have to stand in line for 15 minutes but, today, I figured out another benefit to doing this.
My assigned seat was a God awful middle seat near the back but because I was the last to board I just sat myself down in the first row that didn't have any people sitting in it.
Turns out that row was the emergency exit row so I also got extra leg room.
Score!
At just after noon we landed in Oslo.
It was cold.
Very cold!
In Oslo you also take an express train into the city. There are two different lines, Flytoget and NSB, that take you there in about 20 minutes. Flytoget charges about twice as much (180 nok, $28) compared to NSB (93 nok, $15).
If you want the cheapest tickets (and who wouldn't?), make sure you buy from the correct machine. They're literally side by side and look the same. Just look for the machines with the bigger lineups.
Around 1:30 I was finally in downtown Oslo and had four and a half hours to explore the city.
One thing I noticed right away was the distinct lack of people milling around I'm guessing because it's March and still a bit of a way til tourist season.
Not that I'm complaining! It was nice to walk the streets in peace and solitude.
The other thing I noticed was there's alot of construction going on downtown as there are cranes littering the skyline.
Oh, and there's TGI Fridays everywhere. I counted five different locations on my travels today. Not quite sure what Norwegians fascination with this restaurant chain is but it's gotta stop.
Anyway, first stop – the Opera House.
I had heard you could climb the roof so, naturally, that was what I did.
The building is built in a way that has steep inclines with steps on the outer walls so you can actually get to the top of the building from scaling the walls outside.
Kinda cool and a pretty damn good view of the harbor front and city.
Next stop, Christiania Torv.
When I was looking up stuff to see in Oslo, Christiania Torv came up as a place to see because there's was a statue of a pointing finger there.
Why? What does the finger mean? Well, I'll be honest. I only just now looked it up on wikipedia and apparently Christiania Torv is a historic square in town and is known for its fountain with said statue of finger.
After a big fire in 1624 that ruined the city, king Christian IV decided this spot was where the rebuilding would take place. He named the square after himself and the finger supposedly points to the spot proclaiming "The new town will lie here!".
Me? I just wanted to see a big pointy finger!
The Akershus Fortress was only steps away so I headed there next.
The fortress is free to enter and wander around. Again a great view of the city and some really cool architecture and statues.
From there a short walk away is Aker Brygge which is the main waterfront area of Oslo.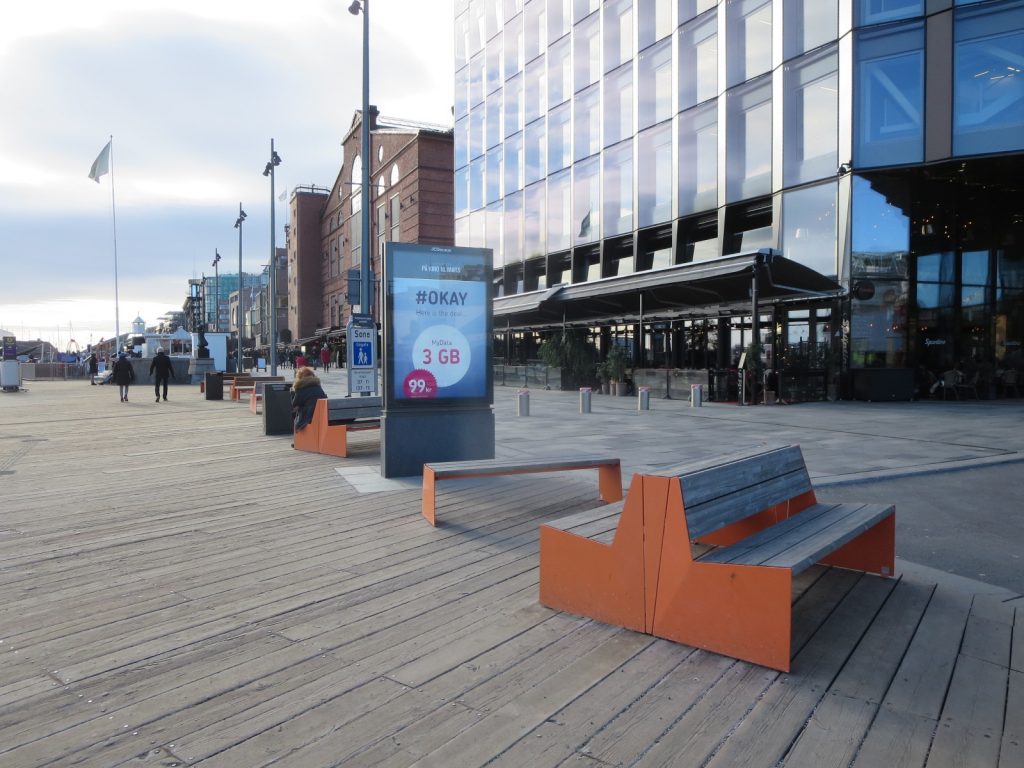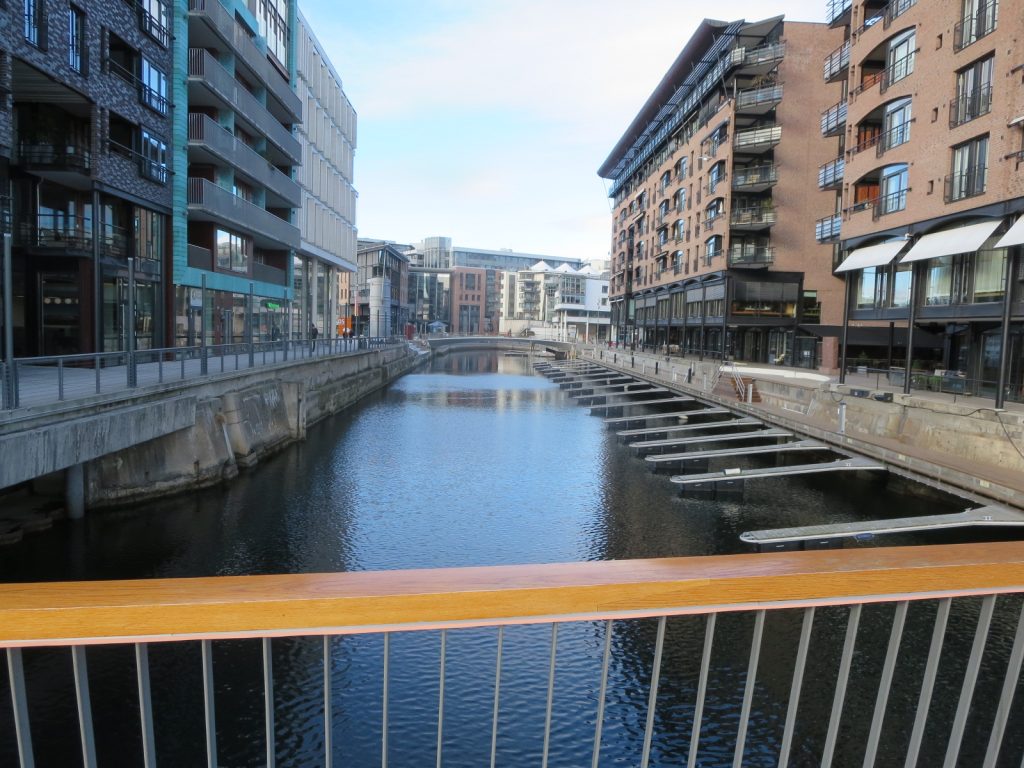 From the high end shops surrounding the area I would say that come tourist season in the summer that Aker Brygge is probably hopping with tourists straight off of cruise ships anchored in the harbor.
But today, in March, it was quiet and peaceful.
I ended up stopping in a convenience store looking for food and found something I hadn't seen since my time in Iceland – gourmet hotdogs.
Fond memories of Iceland suddenly resurfaced and I smiled from ear to ear. Travelling does that to you sometimes, old memories resurface or are triggered my new adventures.
I got myself a bacon wrapped cheese hotdog topped with crispy onions and potato salad.
Yes, potato salad was one of the condiments offered to top up my hotdog.
For the price of 44nok ($7), the price was pretty steep for a convenience store hot dog but compared to prices of other food in Oslo, it was a steal.
Just out of curiosity I went inside both McDonalds and Burger King to see what they charged for their burgers.
The Big Mac went for 93nok ($15) while the Whopper went for 99nok ($16). That's just for the burger, not even the whole combo meal.
Yeah, Oslo is expensive.
The next place to visit on my list was Vigelsandsparken, a park on the edge of the city.
To get to the park I needed to take a 10 minute tram ride.
I spent the next 10 minutes in paranoid fear as I realized the ticket I had collected from the ticket machine wasn't actually my ticket but my credit card receipt. I was just sitting there praying a transit inspector didn't board and I'd have to try to fumble myself out of the situation.
By the way, the transit ride was 33nok for 90 minutes. That's just over $5.
Yeah, Oslo is expensive.
Thankfully the 10 minute ride passed with no incident and I disembarked at Vigelsandsparken.
Again, a place that I would image would be packed in the summer months was eerily deserted as only I and about a dozen other people were in the vast park grounds.
Now, I'm not gonna say Norwegians are obsessed with nudity but I can't quite wrap my head around the statues in this park…
Yeah, so after my excursion into park porn, my day was almost wrapping up.
It was 4:30 and the plan was to visit a restaurant I had looked up online and then walk down the main street of Karl Johan back down to the train station.
The timing wasn't quite there though as I figured I wouldn't have enough time to sit down to a nice meal and get to the airport in time.
So, I called an audible and instead just walked down Karl Johan looking for food along the way.
Now, Karl Johan street was much busier than any other area I had been thus far and it was pretty evident that this was where all the tourists came.
Again, high end shops and again, a couple of TGI Fridays.
Finding reasonably priced Scandinavian food here would be a challenge.
In the end I walked around entirely too long in the cold looking for food.
With small meals starting at 170nok ($30) and entrees at 260nok ($40) I finally just decided to head back to the airport a little earlier and great something there.
I didn't have much better luck there and I reluctantly ended up having a smoked salmon baguette (90nok, $14) with a small bottle of water (20nok, $3).
Yeah, my earlier joy of finding a cheap bottle of water in Stansted airport was offset by this tiny bottle of $3 water here in Oslo.
Oh well, whatever. Aside from the fruitless search for food at the end, the trip was a total success.
I managed to see and do everything I had planned and it was great to be in the peace and solitude of a city that's in it's off season.
By midnight I was finally back at my hostel in London and mere minutes later I was tucked away in bed.
It was a crazy day.
A crazy day trip.
London, England, United Kingdom, UK, Oslo, Norway, Euro Trip 2017, Trip Journal