This morning I once again woke up bright and early as I had an 8:30 bus to catch taking me to my next destination in Mexico – Oaxaca.
Oaxaca (pronounced wah-hah-cah) is a 7 hour bus ride south of Mexico City. The ride itself was pretty bumpy so it was hard to relax on the ride.
It's funny that I had spent a bit amount of effort prebooking my ticket for this trip a couple of days ago because out of 44 seats on the bus there were only about a dozen sold and I could have easily picked mine up at the terminal this morning.
Anyway, riding out of the city you notice the hazy sky that lingers over the big city suddenly dissipates and there's blue sky ahead. And desert. Alot of desert.
I arrived into Oaxaca around 3:30 in the afternoon and made the quick, easy walk to my hostel which is about 5 minutes away.
The hostel itself is in a nice area about a 20 minute walk from all the touristy crazyness in the center of town. Unfortunately, the place operates more like a hotel and has zero atmosphere. In my first night I met no one staying here.
No worries though cause guess who also arrived in Oaxaca today?
Peter and Stacey, the couple from Australia I met in Mexico City. They actually flew into the city which meant they left way after me and arrived an hour before me.
When I arrived in my hostel we contacted each other and made plans to go see the Superbowl at a bar in town.
It was 4pm and we were meeting an hour later before the 5:30 kickoff.
I was meeting them at a bar called La Pasion. I looked it up on my maps.me app and located it pretty easily.
It wasn't in the main area of town that my guy at the front desk had pointed out but I figured the place was close to where they were staying so I headed out for a 20 minute walk to the place.
At just before 5pm I arrived at La Pasion and went inside. The place was a little cafe and I kind of looked around for a TV setup. I didn't see one and asked the waiter if they were showing the football game.
No, no they were not.
Hmmm…
Well, ain't that a pickle.
I told him I was meeting friends and I would wait outside. I sat on the sidewalk and pulled out my phone.
Was it possible there was another La Pasion in town?
I went online and Googled the bar and, sure enough, there are two La Pasion restaurants in the city.
You have got to be kidding me!
The other one? The completely opposite direction, in the main area of town about half an hour away.
Sigh.
I ended up walking all the way back, past my hostel and into the main part of town doing basically a 40 minute extra walk for no reason.
So, yeah, I walked for 60 minutes to get somewhere 20 minutes away.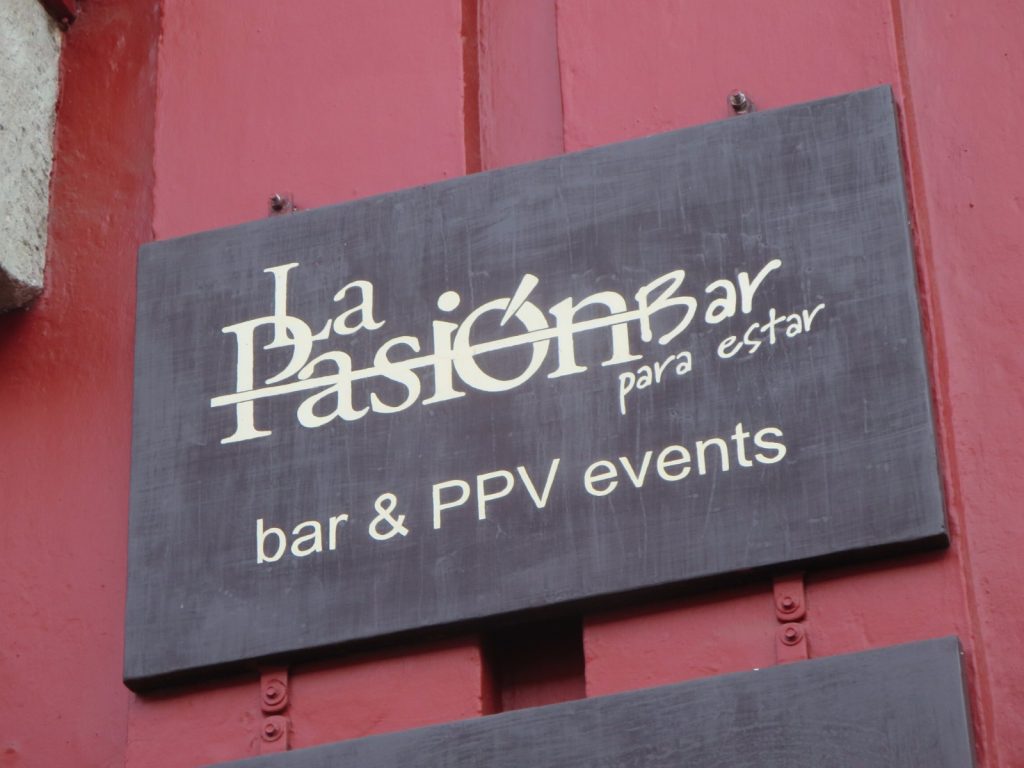 I finally arrived at the right place just after kickoff and was instantly greeted with a bottle of beer.
They had ordered a bucket of 10 which came with an appy platter for 180 pesos ($12). Yup, you read that right – 10 beers and an appy platter for 12 bucks!
I was starving so I took a look at their food menu and sifted through all the American food (burgers, wings etc) and got to the Mexican page.
I ordered the Pozole de Puerco which translates to Pork Pozole. Well, I knew I was getting pork but I had no idea exactly what I was getting as Pozole just translated to Pozole.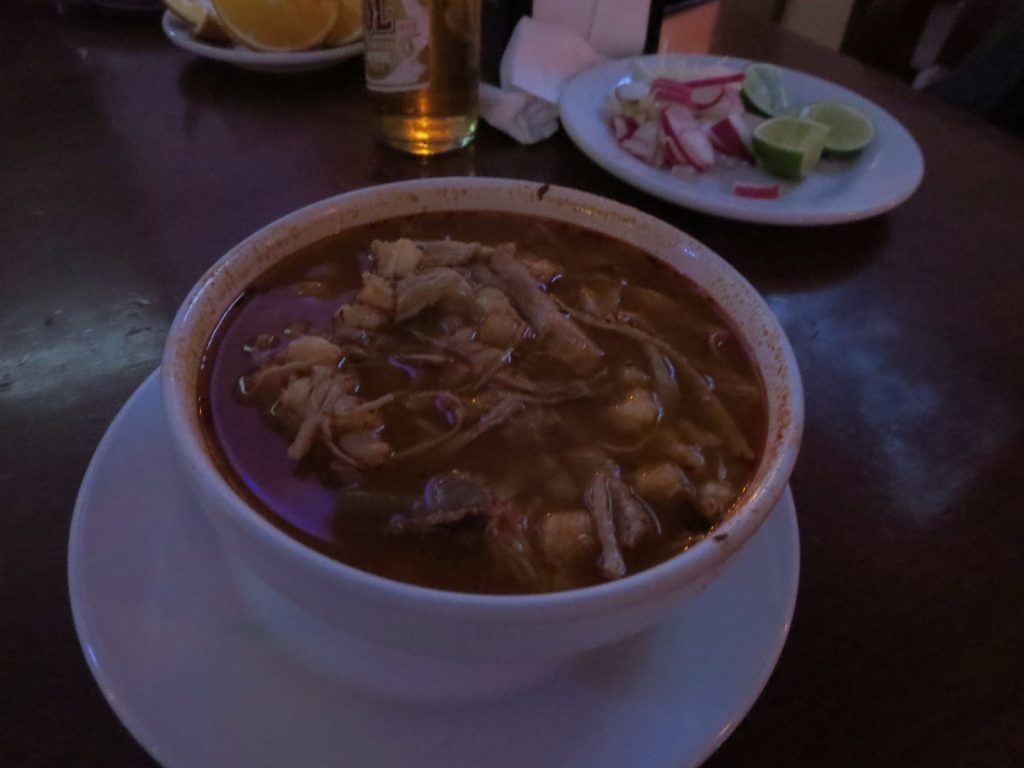 A few minutes later I got an amazing pork stew – the perfect hearty meal I was looking for after eating taco after taco the last few days.
As for the game, I'm pretty sure I was the only Patriots fan in the building and for most of the game I was the one shaking my head in disbelief at how bad the game was turning out for my team.
Of course the Patriots managed to somehow pull out an amazing comeback and win and by the end I was the one cheering.
So, yeah, go Patriots! Unless they're playing the Seahawks…
The game ended around 10pm and Peter and Stacey went one way and I went the other. There's a good chance we'll meet up again in Havana as they arrive there in 3 weeks and there will be a little overlap before I leave from there to Europe.
I came back to an empty hostel and even though I know there's people staying here I haven't really seen them.
Tomorrow I'm just gonna walk around town and see what's out there…
Mexico City, Oaxaca, Mexico, Euro Trip 2017, Trip Journal