Alright! It's time to get back into Euro Trip 2017!!!
My flight to Paris was at 1pm so, normally I'd arrange to get to the airport at 11am.
Normally…
One thing about the cheap Ryanair flights is that they usually operate out of smaller airports on the outside of town.
Now, when i say outside of town what I actually mean is like out of the next city which is over an hour away.
While my flight into Warsaw landed at Chopin Airport which is a simple local transit bus into town, my flight out of town this afternoon was out of Modlin Airport which is only accessible by car, taxi or an airport shuttle bus.
The Modlin Bus runs every hour or so depending on the time of day and leaves from near the Warsaw Central Rail Station going directly to the airport.
Since I wanted to be at the airport for 11am, I went online to book for the 10:20 bus.
Sold out!
Ugh, okay, how about the bus before that? No? Well, surely the one before that…
Uh, no, that one's sold out too.
Sonabitch!!!
In fact, I had to begrudgingly book the bus at 8:20am which not only meant I'd be at the airport a full 4 hours before my flight left, but also that I'd have to be out the door of my hostel at 7:30am.
Ugh.
On the plus side, though, I was pretty much at 100% after recuperating from a stomach virus the last week and a half and I WAS GOING TO PARIS!!!
So, I hopped on my early bus and a mere four hours later I was on my Ryanair flight to Paris.
Ryanair maintains cheap airfares by being an absolutely no frills airline. One of the ways they make money is by offering some of those frills for a charge.
Like the frill of seat selection.
I discovered today that that "frill" is kinda important, even for a measly 2 hour flight.
Normally I ask for an aisle seat so I can stretch out my legs but since I had no say in the matter I ended up with a window seat.
A claustrophobic, sitting beside a burly arm-rest hogging man, window seat.
I exacerbated the problem by choosing one of the hot meals off their a la carte menu for lunch.
I ordered the ratatouille (pasta with veg and tomato sauce) and was soon presented with an obviously nuked frozen meal in a plastic tray sealed in plastic wrap.
As I tried to put my bag away under the seat holding the meal against my chest I soon discovered that that meal wasn't as tightly sealed as I thought.
Nope. I was now wearing hot tomato sauce on my hoodie and my pants.
I sat there in disbelief at the ridiculousness of the situation. Trapped in the window seat, my only hoodie and my only pair of pants swimming in tomato sauce.
So, yeah, I arrived in Paris smelling of tomato sauce. I guess there are worst smells but, still, welcome to Paris!
For the first time in awhile on this trip I was smiling from ear to ear.
I was here! In Paris! A new city with new things to see and do!
Because we landed at the Beauvais airport an hour or so outside of Paris there was no Eiffel Tower to be seen yet but having the anticipation of seeing it build up kept my excitement level up.
After a shuttle ride into town and a short metro ride I emerged from the metro station right onto the Champs-Élysées as my hostel was only a short walk from this iconic street in Paris.
As I turned the corner my smile grew as for the first time I saw he Eiffel Tower!
Now, I only saw the tip of the tower as the rest was obscured by buildings but just the fact that I could now actually see this iconic landmark and that I was so, so close to it was overwhelming.
My smile was from ear to ear.
I checked into my hostel around 6pm, got my stuff in order and headed out to the Paris night.
I had two goals for tonight – a great meal and going up the Eiffel Tower at night.
I let the anticipation of seeing the tower build a little more as I headed the other direction to an area just off the Champs-Élysées to get some dinner first.
I ended up being drawn into a little restaurant offering a 3 course meal for 29 euros ($40).
To start I had tuna tartar. Now, we have that on our menu at the Keg so my expectation was cubed raw tuna done in a sauce with accompaniments on the side.
What I got was what looked like canned tuna on a bed of diced tomatoes.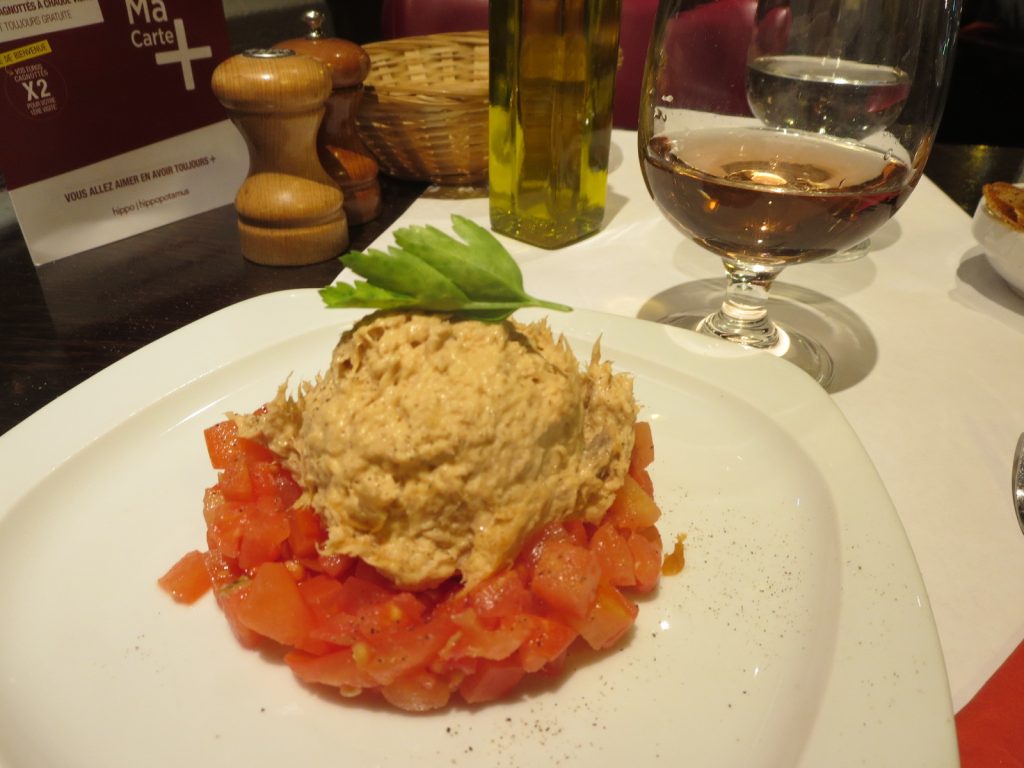 Um…
What?
I mean, it did taste good but visually it just didn't look right.
For dinner I had a steak with baked potatoe and bearnaise sauce.
Now, that was more like it!
And for dessert…
Chocolate Mousse of course!
Overall the meal was great and so vastly different from the heavier meals I had had the last week in Ukraine and Poland.
Okay, enough stalling!
Time to go visit a certain Tower!
As I walked towards the tower my exictment grew and grew until I finally turned a corner and there it was!
The Eiffel Tower!
For all the travelling I've done, the 30+ countries and the 100+ cities I've visited, I've rarely felt this feeling I was feeling right then and there.
Here I was, somewhere in this world, witnessing this iconic landmark.
It actually seemed much shorter than I thought it would be but that didn't make it any less grand.
I made it past all the Nigerians selling their cheap Eiffel Tower trinkets and walked up to the ticket office.
It was 9pm and it was February so the lineup was non-existent so all the advice about just walking up and getting a ticket were bang on.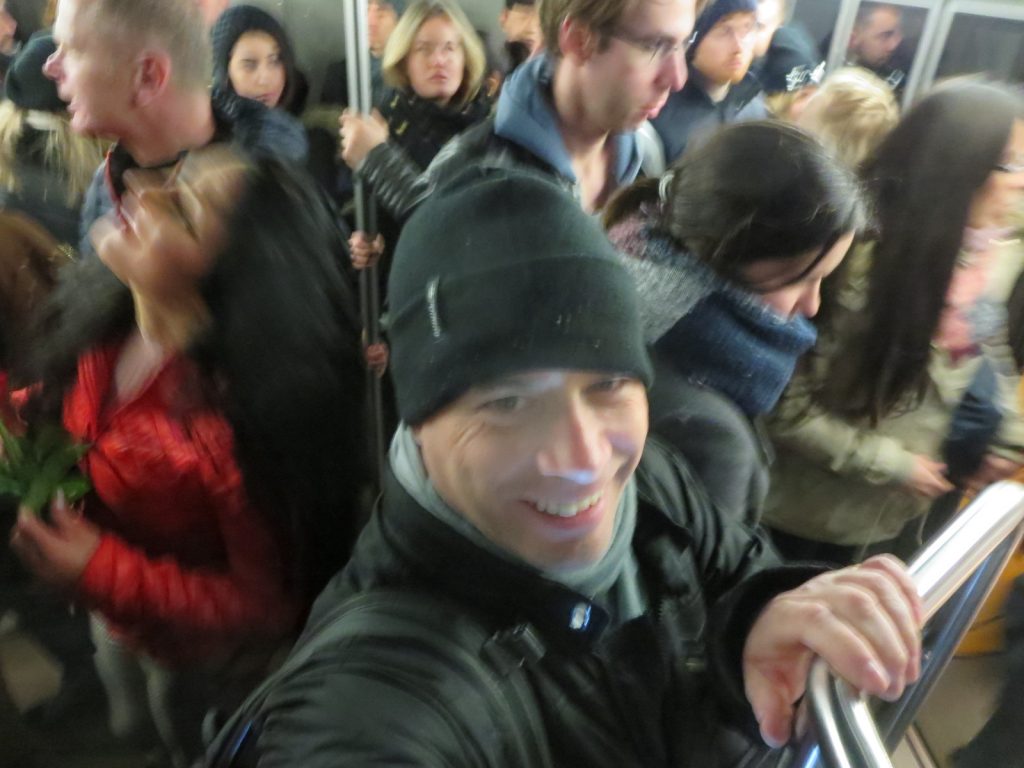 I had planned to forgo the elevator and just walk up the stairs but, for whatever reason, the stairs going up were closed at 6pm.
Oh well, at least there was only minimal waiting to take the elevator up.
And this, is where I just let my photos tell this part of the story…
And that was my first night in Paris!
A great meal and a one of a kind experience.
Warsaw, Poland, Paris, France, Euro Trip 2017, Trip Journal
A great meal and a great view