When I originally was drawing up my itinerary for my original Euro Trip back in 2013, I had planned to travel for much longer than I did and part of that plan was to come to Paris and do a day trip out to Mont St Michel.
That little place in Normandy way up north has had a gold star map marker on my Google Maps for 4 years and now, today, I finally visited it.
Mont St Michel started out as a monument to Saint Michel who was the protector of warriors and basically the bouncer at the gates of heaven.
He was God's right hand man.
So, after seeing a vision of St Michel three times a priest in the nearby town made it his mission to build this mont as a homage to him.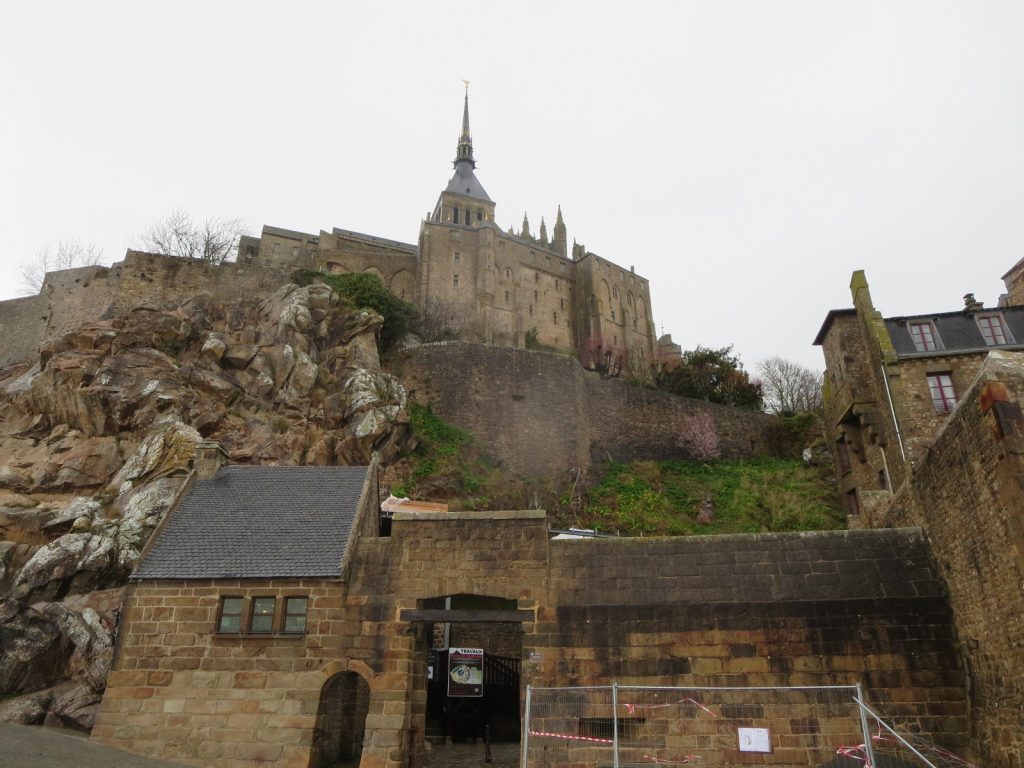 Soon people made long pilgrimages out to Mont St Michel to be closer to God and villages formed below.
Through wars and invasions Mont St Michel has stood the test of time and is now a Unesco Heritage Site that brings in over 2 million visitors a year.
And, today, I was one of them.
Now, there are plenty of tour companies offering a Mont St Michel tour for well over 100 euros but I decided to see if I could do it on my own.
So, this morning I stealthily crept out of my dorm room at 6am so as not to wake anyone and by 6:45 I was out the door on my way to catch a 7:30 bus out of town.
Going there I took a OUIbus for just 20 euros and coming back I took a bus/train combination for just 35 euros.
The trip each way was 4 1/2 hours long which meant I wouldn't be back home til 10pm.
As we pulled into the Visitor's Center around noon, the sky was grey and overcast but the patches of heavy rain we encountered on the bus ride up were nowhere to be found.
Yay! No rain!
Mont St Michel is actually a 40 minute walk away from the Visitor's Center but there's a free shuttle that runs every 10 minutes.
The shuttle that was about to leave was jammed pack full of people so I decided to wait 10 minutes for the next one.
And then, I decided, what the hell, I'll just walk over to it. I mean I was bundled up with gloves, a scarf and a touque and I also had 5 hours to spend here so I figured I'd take a nice leisurely stroll.
A few other people had the same idea but, honestly, the road to the Mont was pretty much deserted.
After about 10 minutes of walking it started to sprinkle a little.
No big deal, a little rain never hurt anyone.
And then it started to pour!
Like, really pour!
Like, rain coming in sideways and wind almost blowing you off your feet!
And no shelter to be found anywhere.
Nope, you only had one choice – keep walking.
Pretty soon I was soaked from head to toe and all I could think about was how I'd be in these wet clothes all day and wouldn't be able to change out of them for another 10 hours.
The whole experience actually brought back vivid memories of when I got trapped in a torrential downpour as I arrived in Dubrovnik a few years ago.
No kittens waiting for me at the end of my trek this time but at least the rain stopped.
In fact, the rain wouldn't return the rest of time I was here which meant if I had just taken that shuttle not a single drop of rain would have fallen on me.
But, hey, I wouldn't be me if I wasn't making some bad decisions…
When I arrived at the Mont I immediately went looking for somewhere to eat. I needed to be inside somewhere warm where I could just sit down and try to forget how soaking wet I was.
I quickly made my way past all the souvenir shops by the main entrance and found a restaurant that offered a 3 course meal for 25 euros.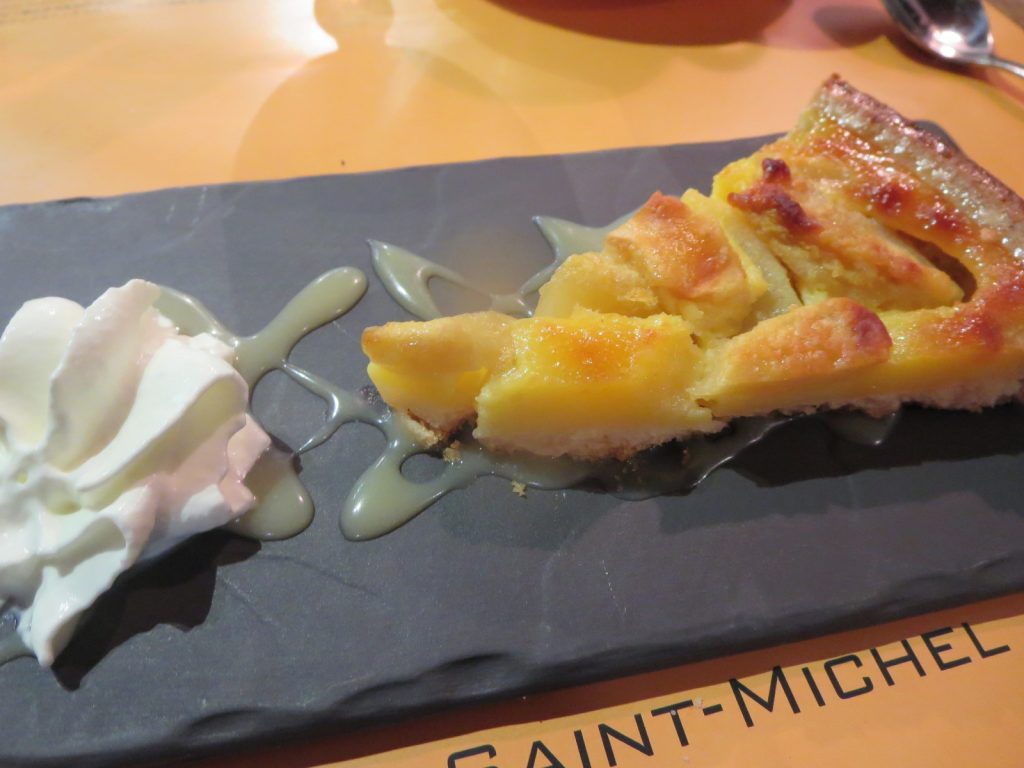 Smoked salmon salad, grilled chicken and an apple tart.
Okay, now let's tackle Mont St Michel!
I took a little under an hour to make my way through the village and reach the Abbey at the top.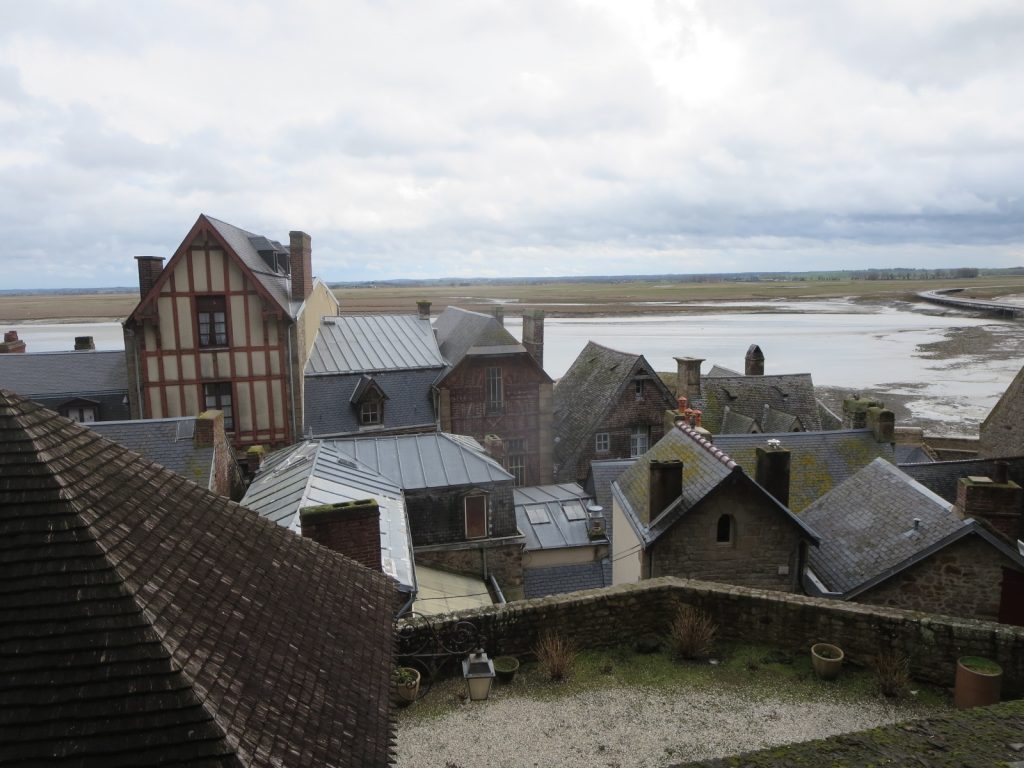 The cost to enter the Abbey is 10 euros but it also includes a free guided tour. They have several a day in French and only two in English. Luckily one of them was at 2pm which was only a half hour away.
While I was waiting I found an overhead heater and just stood under it trying to dry off a bit.
At 2pm my tour guide came over to me and I found out that this tour was going to be a one-on-one tour as apparently there were no other English people around.
Having such an intimate tour was actually pretty cool because I could just stop her and ask any questions that came to mind.
It turned out to be one of the best tours I've ever had as my tour guide knew alot about the history of Mont St Michel and she delivered it in a way that wasn't drawn out and boring.
I'm pretty sure there was no need to tip but I was so impressed that I left her 10 euros.
At 4:30 I headed back to the Visitor's Center (this time I took a shuttle bus) and wouldn't you know, soon after arriving inside it started to pour again.
Crazy!
At least a rainbow appeared at the end as if to say "see, it was all worth it!"
Paris, France, Euro Trip 2017, Trip Journal
Day trip to Mont Saint Michel