After having so many action blogs in a row, it was actually kind of nice to have an easy day thrown into the trip.
In fact, the days have been so busy and long that I had fallen far behind on my daily blogging.
Four days behind. And when you're doing a daily blog, that's alot of days to fall behind.
I had made bullet points about what I had wanted to write about and uploaded my photos but the blogging still remained.
Luckily I had a long bus ride from Paris to London where I had all the time in the world to catch up my blogging.
There are a few ways to get from Paris to London with the most common being flying or taking the high speed rail with both taking not longer than a couple of hours.
And then there's the third way – by bus.
OUIbus does a daily trip from Paris at 11:00am arriving 9 hours later in London at 7:00pm. No, my math isn't off, there's a one hour time change in there.
It makes for a long travel day but the price difference is not even close at only 25 euros ($30) while the other two options are well over $100.
So, at 10:00am I finally checked out of my home for the last week here in Paris and hopped onto the Paris metro for the last time.
At 11:00am we pulled out of Paris on a bus that was only a third full.
I quickly changed my lame assigned seat to one on the back row where no one else was and sat back, plugged in my netbook, and got to work on catching up my blog.
Oh, did I mention there was free wifi on the bus? Yeah, that was pretty sweet.
Or at least until I hit my limit of usage which apparently goes pretty quick when you're uploading photos.
Lame!
I don't know what's more frustrating – not having wifi at all or having wifi available but being told you can't use it.
Argh!
So, I did the next best thing – I wrote everything offline so I'd be able to quickly upload it all when I finally got in to London.
Around 4:00pm we finally hit the border where we all had to disembark the bus to go through customs.
Going through French customs was once again a breeze and they didn't ask me a single question.
We hopped back on the bus only to get off again less than 5 minutes later as we drove over to British customs.
Finally, at this customs check I got the third degree as she asked me about my trip and couldn't quite wrap her finger around the fact that I was travelling for four months and I did, in fact, have a job back home.
After going through dozens of customs checks in the last few years, this was the one I always expected to get every time so it was kind of nice to finally get that out of the way.
Soon after the bus was directed onto a train like compartment where it was locked up for it's trip across the tunnel.
I had always thought that crossing the tunnel was just like crossing any other tunnel but, nope, they got a system here.
The load up all the cars in train compartments and then an engine pulls the train across the tunnel to the other side where we're all unloaded again.
It was a strange experience as we sat in a bus with it's engine turned off for 20 minutes as we went across.
By 7:00pm we finally pulled into London and by 8:00pm I was at my new home for the next week.
In my room was Sam from the east coast of England. Sam is here just for the weekend as The Walking Dead is having a convention just down the street.
Damn, a Walking Dead convention. So tempted!
He said he attended last year and spent 1000 pounds ($1600) mostly on autographs and photos. Crazy!
Anyway, this year he has Lucille ready to be signed…
After getting settled in I headed out to a bar down the street for my first meal here in England.
Was I going to be cliché and get fish and chips or was I going to be a bit more sophisticated?
I chose sophistication. Well, as sophisticated as one can get sitting in a London bar.
Lamb shank Shepard's pie…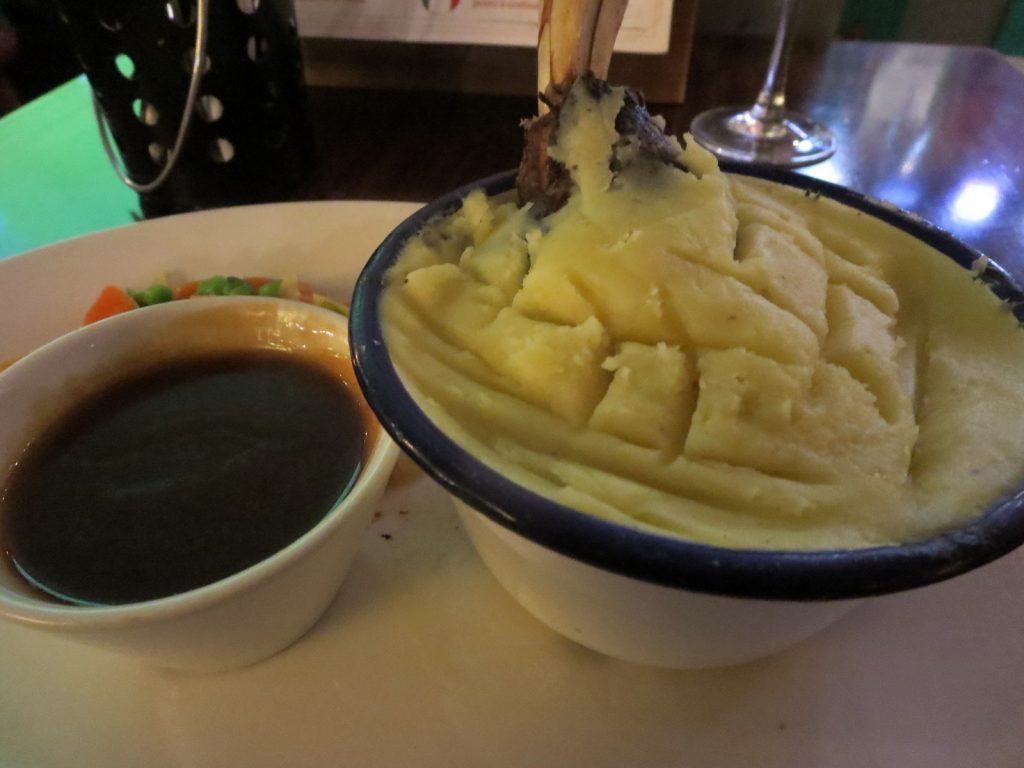 Over the next five weeks I'll be in London, Bath, York, Newcastle, Liverpool, Conwy, Dublin, Galway, Killarny, Cork, Skye, Glasgow, Edinburgh, Aberdeen and Inverness.
So many adventures ahead!
Paris, France, London, England, United Kingdom, UK, Euro Trip 2017, Trip Journal