Today was a long day of exploring and drinking.
A commonly offered tour here in Oaxaca is an all day trip out of the city to five different sites for 200 pesos ($13).
Even with the extra 135 pesos in entry fees and an optional (but you'd be crazy not to get) Mexican buffet lunch for another 165 pesos bringing the total for the day to 500 pesos ($32), it's well, well worth it.
Of course, it helps if you're doing the tour with some great people too.
Getting on the minibus with me this morning were:
• Jemma – A baker from Cardiff in Wales
• Marian – A nurse from Victoria of Ethiopian and Somalian heritage
• Ana – A chef from Playa de Carmen in Mexico who's working as a front desk clerk in a hotel
• Ali – A big, bold, funny guy from Cairo
• Tyler – A political activist (for the good guys) from Michigan
• Max – A guy from New York working in real estate
• Shawn – A newly hired firefighter from Halifax
Along with a few other strays we picked up at other hostels, a driver, a Spanish guide and our guide Eloy, we were on our way just before 10am.
Stop 1: A really old tree
Our first stop was Santa Maria el Tule, a small town about a half hour out of Oaxaca. It is the home of a massive tree well over 2000 years old making it one of the oldest in the world.
We hopped off the minibus and before I went to the tree I had to see someone about a tacky, touristy straw hat.
I needed to protect my lovely and still massively sunburnt face from this daylong excursion into the bright Mexican sun.
So I donned a tacky hat I bought for 80 pesos ($5) and went over to the gardens where the tree was.
Wow. Tree. Big. Moving on…
Stop 2: Weaving Village
Next stop was a workshop in the tiny weaving village of Teotitlan del Valle.
The village is known for its use of natural dyes to color the wools they use to weave carpets and other items.
We saw a couple of demonstrations of how wool was made and carpets were weaved but the most interesting thing was how the colors were made for the dyes.
Most of the colors are made from different plants and their berries or leaves but the color red has a much more interesting story.
To get the color red they take the parasites (little white moldy like substances) off of the prickly pear plant.
Yes, the color red is from parasites.
You can get different shades of red just by what pH level reacts with it. For example, he had two different people spread the parasites on their hands to make the color. Because both of them had a different natural pH level the colors were different shades. Then he added an acid of lime juice and the colors adjusted again.
Backpacking and I run into a science lesson. Go figure…
Anyway, the whole demonstration was kinda cool and then afterwords, of course, they led us to the shop where they sell their wares.
A few people bought but I wasn't about to drag around a carpet for another 4 months so I passed.
I did ask the man how much a carpet that took 2 months to make would sell for and he told me 7000 pesos ($450). Not that much when you consider it was 2 months work for it.
Stop 3: Drunk at noon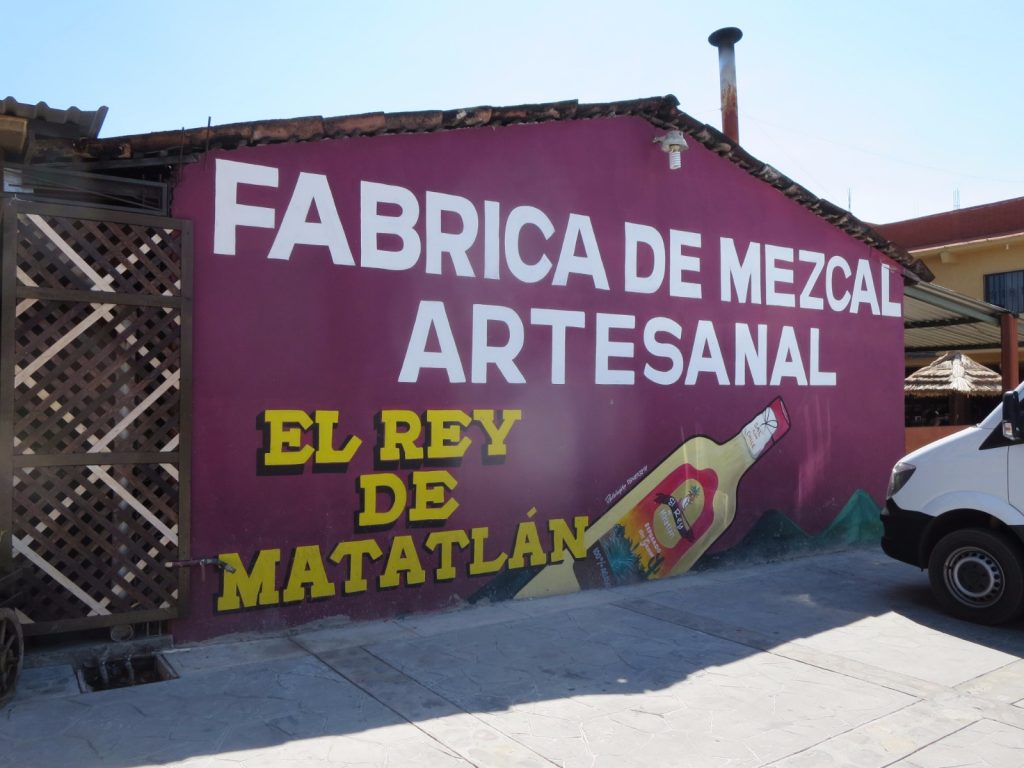 On to the Mezcal distillery!
Mezcal is kind of like Tequila's little, nicer sibling. The process of making the two alcohols is very similar except Tequila can only be made from one type of agave plant while Mezcal can use several different plants.
Oh, and to be tequila, it can only come out of the Tequila region here in Mexico.
There are other differences too but, let's leave it at that.
When we arrived at the distillery the first thing you notice is an amazing aroma of smokiness like you would have when you smell smoked salmon.
Eloy took us through the entire process from agave plant to distilled liquor even letting us try drinking agave straight from the smoked plant.
After the demonstration we headed inside where there were 25 different bottles of mezcal lined up waiting for us to sample
Yes, 25 different types.
Most of them were fruit flavored like pistachio, mango, cherry, pineapple etc.
Consensus favorite though was the cappuccino flavored bottle which went down real easy and tasted a little like Baileys.
Who are we kidding… most of them went down real easy.
And I tried 'em all.
And I got drunk.
At noon…
Most of us, myself included, bought a small bottle for 100 pesos ($6) to take with us. Of course I bought the cappucino flavored mezcal.
Time for some food to soak up all the booze!
Stop 4: Mexican buffet lunch
A little bit down the road, we arrived at a big building serving up the buffet lunch.
Obviously this stop was used by all the tour groups around town as there were a few buses outside the building when we arrived.
The buffet spread had everything from desserts and salads to classic Mexican dishes. There was also an section with things like spaghetti but we stayed away from that – I mean, what the hell, this is Mexico! Ain't got no time for spaghetti!
After a couple trips to the buffet, my head started to clear and my drunkenness was dissipating.
Time to move on…
Stop 5: Ruins of Milta
With the sun now beating down on us and no shade in sight, I listened as Eloy talked about this area also known as the place of death.
The actual ruins are fascinating as they are built with mosaic fretworks that are composed of thousands of individual pieces of stone mosaic inlaid in distinct geometric patterns.
Enough sun already though, let's go to an oasis!
Stop 6: A frozen waterfall!
When I was in Mexico City someone told me that I had to go see the frozen waterfall in Oaxaca.
Frozen waterfall? In Mexico? Eh?
Well, truth is that it only looks frozen. It's actually solidified and petrified so it looks like it actually has ice hanging from it.
I actually have seen frozen waterfalls when I was in Iceland a few years ago and I gotta say the petrified fall here looks pretty damn close to the real thing.
Anyway, Hierve el Agua is much more than a waterfall as there are also naturally formed swimming pools right on the cliffs edge overlooking a vast valley of green.
While some of the others changed into their swim trucks and splashed around in the pools, I hung back and took photos of all the remarkable scenery around me.
Drinking games
Yup, you read that right. For the first time in a long time I found myself in the middle of a crazy night of drinking games.
Lots of laughs, lots of Fuzzy Ducks and Ducky Fuzzes and somehow my whole bottle of mezcal I bought earlier in the day ended up empty.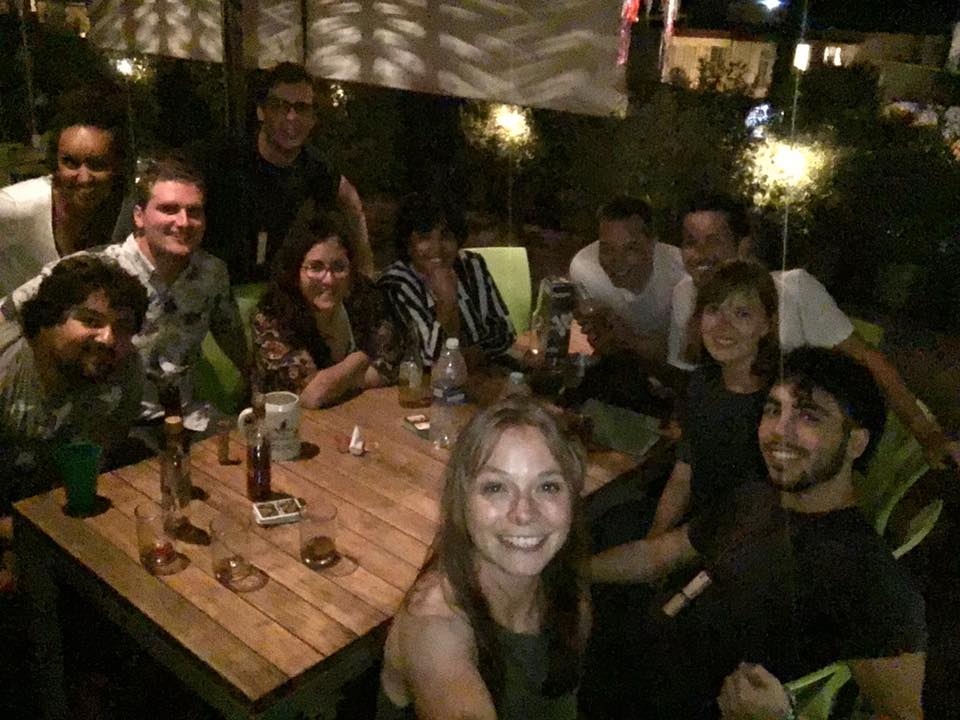 By 1am it was time to call it a night.
Tomorrow I check out at noon and then head onto an 11 hour overnight bus at 8pm.
I'm happy I moved hostels as the last couple of days have been great and I've met alot of different, original and interesting people.
Let's see what tomorrow brings…
Oaxaca, Mexico, Euro Trip 2017, Trip Journal